News and Events
Special Events
During the course of the Season we hold various events such as Vintage Weekends, Book Launches, Presentations, Airfix Paint and Make Days.
We are currently putting together our calendar of special events and these will appear here shortly, and on our Facebook and Twitter Pages.
They will include: Vintage Weekends, 100th Anniversary of the RAF Centenary event, Blenheim Day, Defiant Day, John Vasco presentation on the Messerschmitt Bf 110 and several book launches, including Andy Longs definitive tome on the Boulton Paul Defiant.
Watch this space!
---
3 September - Vintage Weekend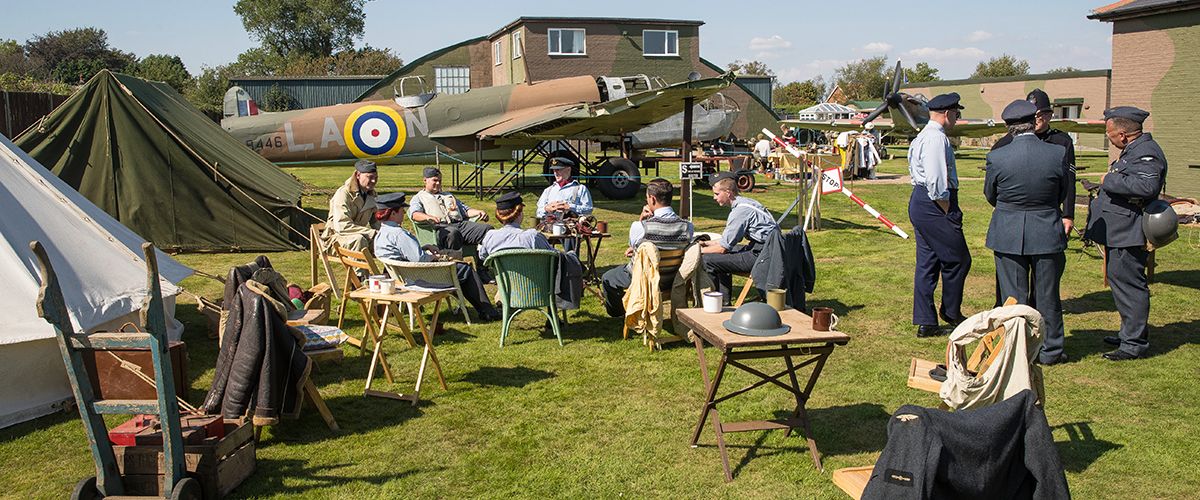 Well that was certainly a spectacular 'Vintage Weekend' at the Kent Battle of Britain Museum Trust at Hawkinge! The event was a major success and saw takings in the pay desk up by over 25% from last years Vintage Weekend. It also saw the car park full to capacity on several occasions over the weekend. (Thanks to our friends Kev and Clare at the Hawkinge Vehicle Services for allowing us to use their car park for all the volunteers, re-enactors, exhibitors cars for the weekend).
Many thanks to all those who displayed, and particular thanks to Dafydd Thomas for organising all the re-enactors and RAF encampment.
And of course a Massive Thanks to all those who visited, supported, shared, publicised, put up posters and support the hard work of all the volunteers.
We are planning two major 'Vintage Weekends' for the 2019 Season so watch this space for the dates which will be published very soon.
---
19 August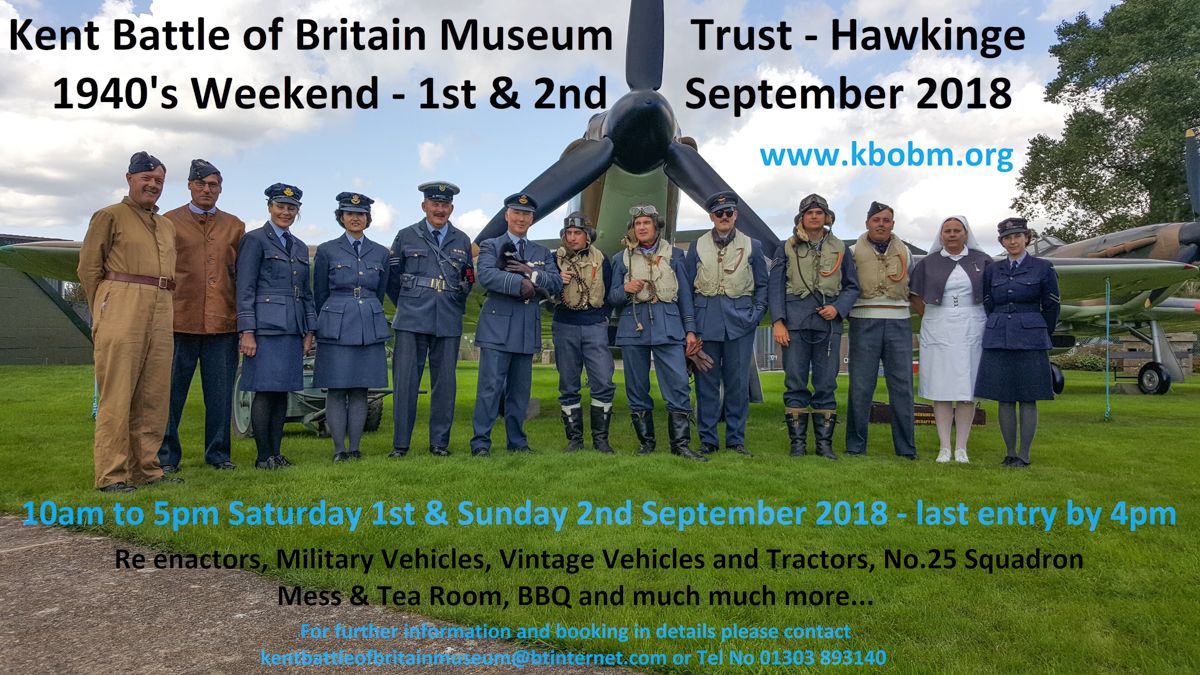 ---
30 July - Bristol Blenheim Mk.IV cockpit update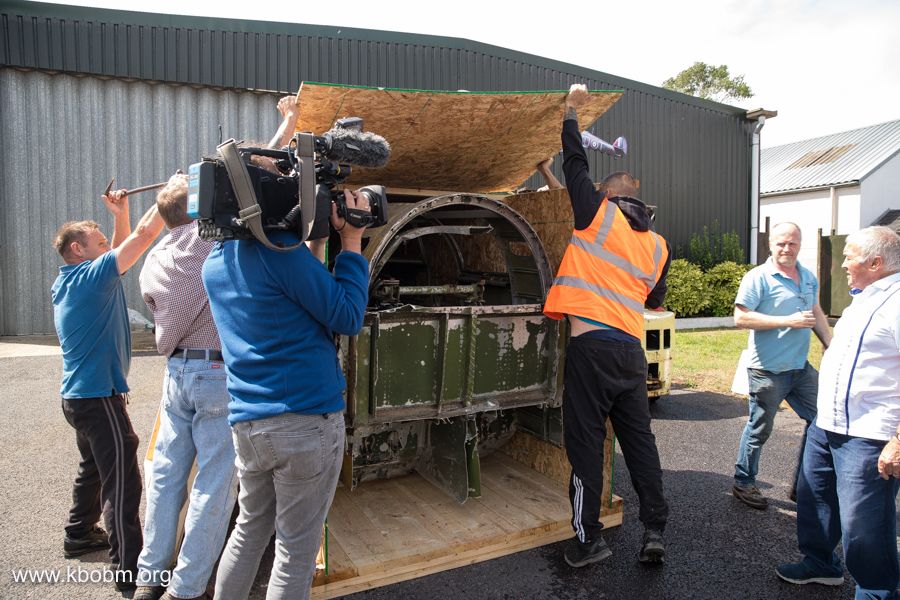 Massive progress with our Bristol Blenheim Mk IV project today with the arrival today of our cockpit section from Canada. Unexpectedly, it was air-freighted over and quickly cleared through UK Customs, thank you.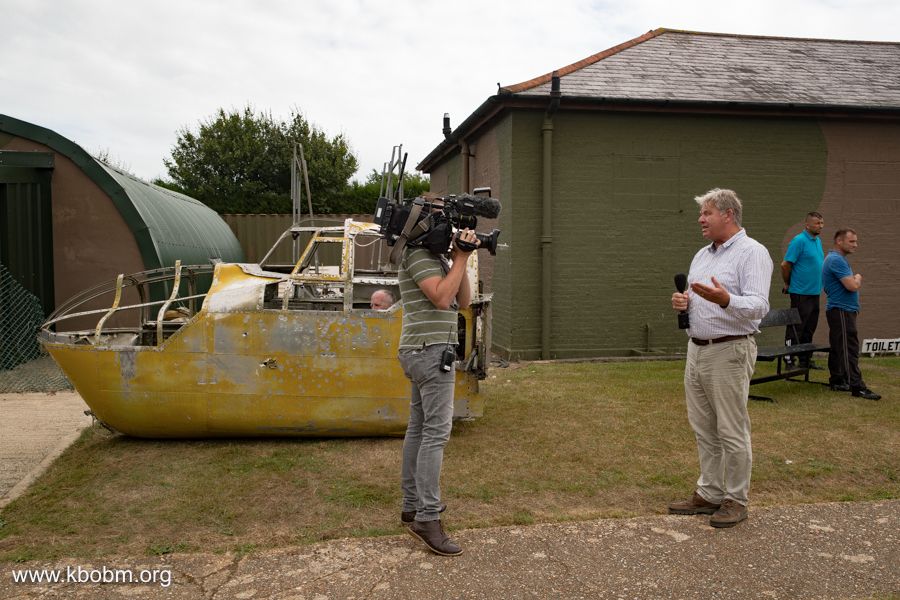 BBC South-East news covered the arrival with two live broadcasts by Robin Gibson during the day.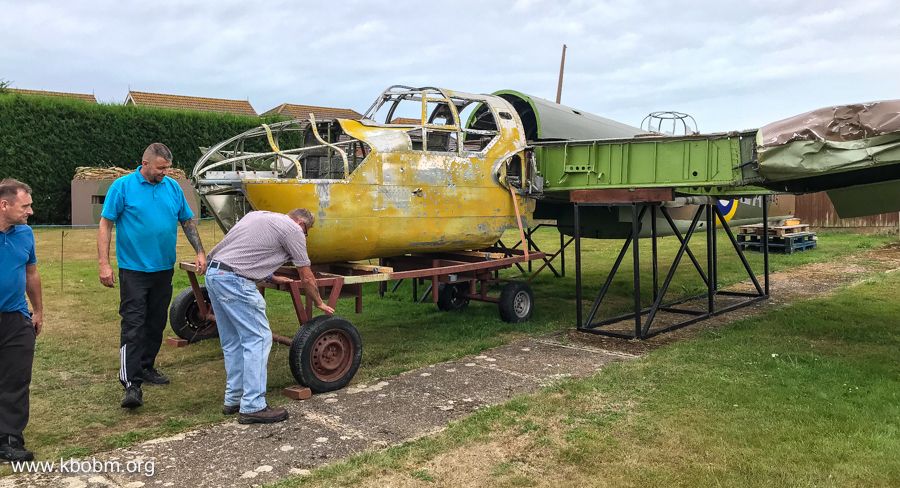 Now our Blenheim is starting to look more like an aircraft
---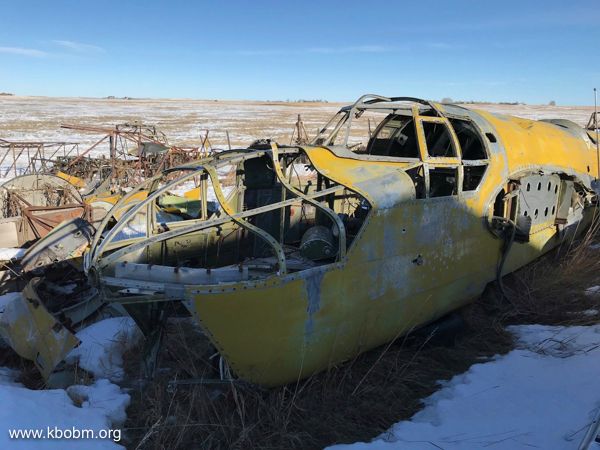 19 July - Bristol Blenheim Mk.IV update
We are very happy to report fantastic progress on the Bristol Blenheim Mk.IV project.
Last Thursday we had it confirmed that our Blenheim Mk.IV cockpit section was boxed in Canada and was awaiting for collection. We are happy to advise that the cockpit section is now on her way and should be with us within a matter of a few weeks.
---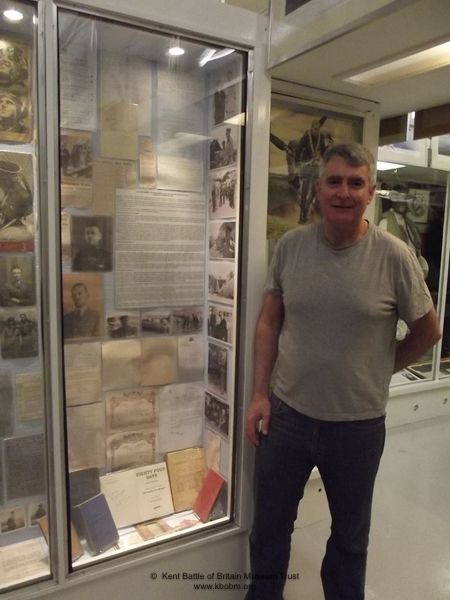 26 June - We, the Kent Battle of Britain Museum Trust at Hawkinge, were very pleased to welcome Paul McNicolls back from Canada over the weekend and to see the display we have created with the Air Chief Marshal Sir Keith Rodney Park, GCB, KBE, MC and Bar, DFC personal effects he kindly presented to us in September 2017.
The artefacts were for many years in the possession of a former neighbour and friend of Sir Keith's in New Zealand, Marjorie and Don Lobban. They consist of photographs from Park's collection, and therefore not previously published, various documents, and, perhaps most interestingly, several books from Park's library. Don Lobban asked his friend Paul McNicholls for input and assistance in finding a permanent home for the Keith Park artefacts. Luckily for us, Paul had visited and seen the work we undertake and thus made us one of favourite recipients amongst museum's from around the world. Quoting Paul: 'I travel a lot in pursuit of my historical interests and am in the UK most years. There are of course other good air museums, but none that I have seen that are, in my opinion, quite in your league.'
We are pleased to report that Paul was very pleased with the display of personal effects that the Volunteers had arranged in the Armoury.
---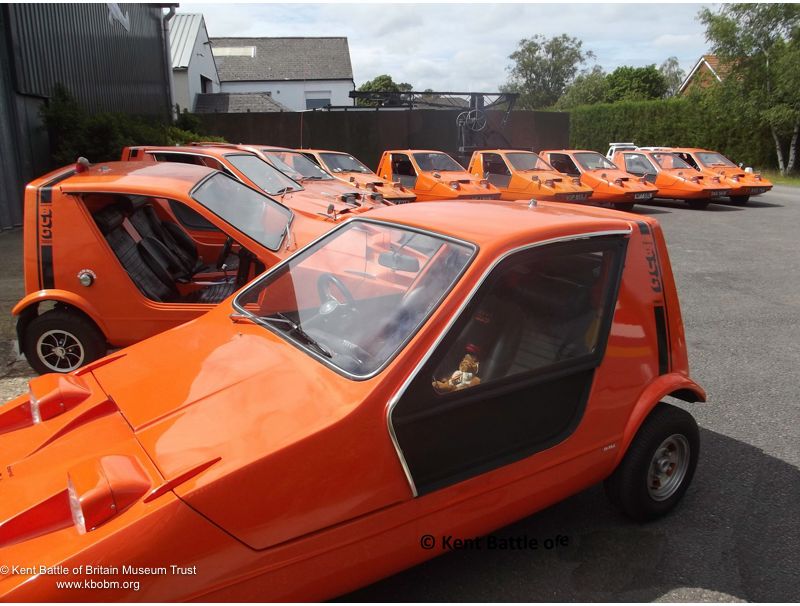 17 June - Amongst the visitors yesterday were seventeen Bond Bugs on a club run to the Museum and No.25 Squadron Mess and Tea Room.
One had even driven all the way from Liverpool to attend their weekend event!
---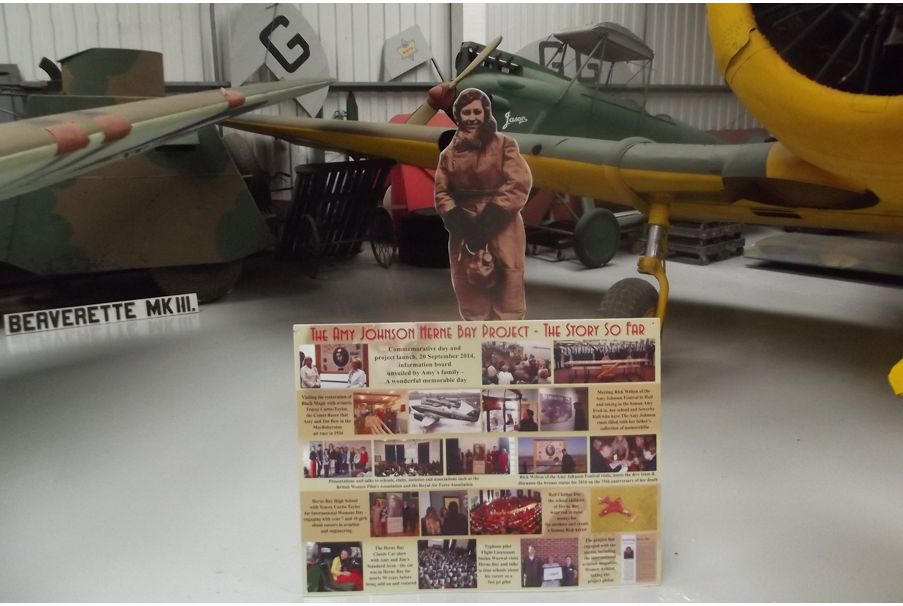 30 May - a famous and attractive young lady arrived at the Kent Battle of Britain Museum Trust at Hawkinge the other day and can now be seen in the Stuart-Buttle Memorial Hangar.
Well a life size cardboard cut out of the famous Amy Johnson and kindly presented to the Museum by Jane Priston of the Amy Johnson Project.
Amy Johnson (1903-1941), CBE, was one of the most influential and inspirational women of the twentieth century. In 1940 she joined the Air Transport Auxiliary, an organisation set up to ferry planes around the country for the Royal Air Force. On 5th January 1941 she left Blackpool in an Airspeed Oxford, which she had been ordered to deliver to RAF Kidlington, near Oxford. Amy went off course in adverse weather conditions. Reportedly out of fuel, she bailed out as her aircraft crashed into the Thames Estuary near Herne Bay.
'Amy' can now be seen in front of a replica of 'Jason' a DH.60 Gipsy Moth G-AAAH, that was formerly suspended from the ceiling of the booking in hall at Croydon Airfield. (It was from Croydon that Amy left on her record breaking solo flight from England to Australia on 5th May 1930).
We are also very pleased to announce that the Museum is now assisting Jane Priston and the Amy Johnson Project.
For further details on the Amy Johnson Project please visit their website.
---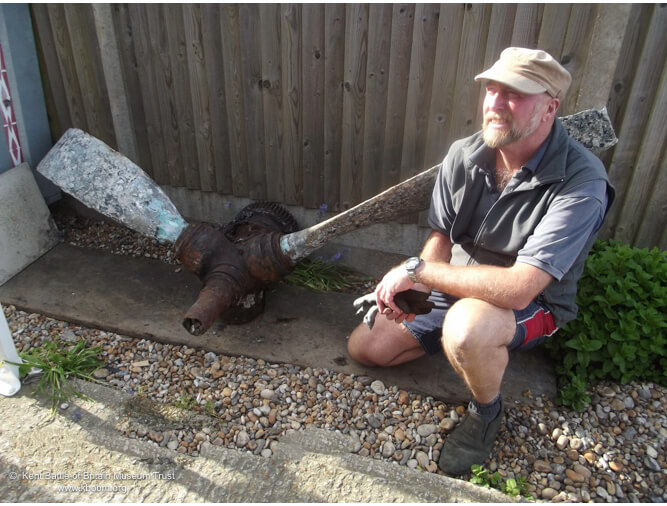 22 May - it has been a busy few days for the Volunteers at the Kent Battle of Britain Museum Trust at Hawkinge and not only during the day when we are of course open to visitors.
Friday night, 18th May 2018, Dave Brocklehurst MBE and Ian Douglas, were joined by Dave Hammond, at Lydd-on-Sea to collect a yet unidentified propeller assembly which was recently trawled up in fishing nets off of Bexhill-on-Sea in Sussex.
The Volunteers are busily trying to establish the identity of the aircraft this propeller assembly might originate from. Dave has spent the last few nights cleaning off the crustaceans and corrosion to preserve the assembly for future display.
The Trustees and Volunteers would like to extend our sincere thanks to Scott and father Graeme (seen here) Possnicker for kindly donating this exhibit to the Museum.
---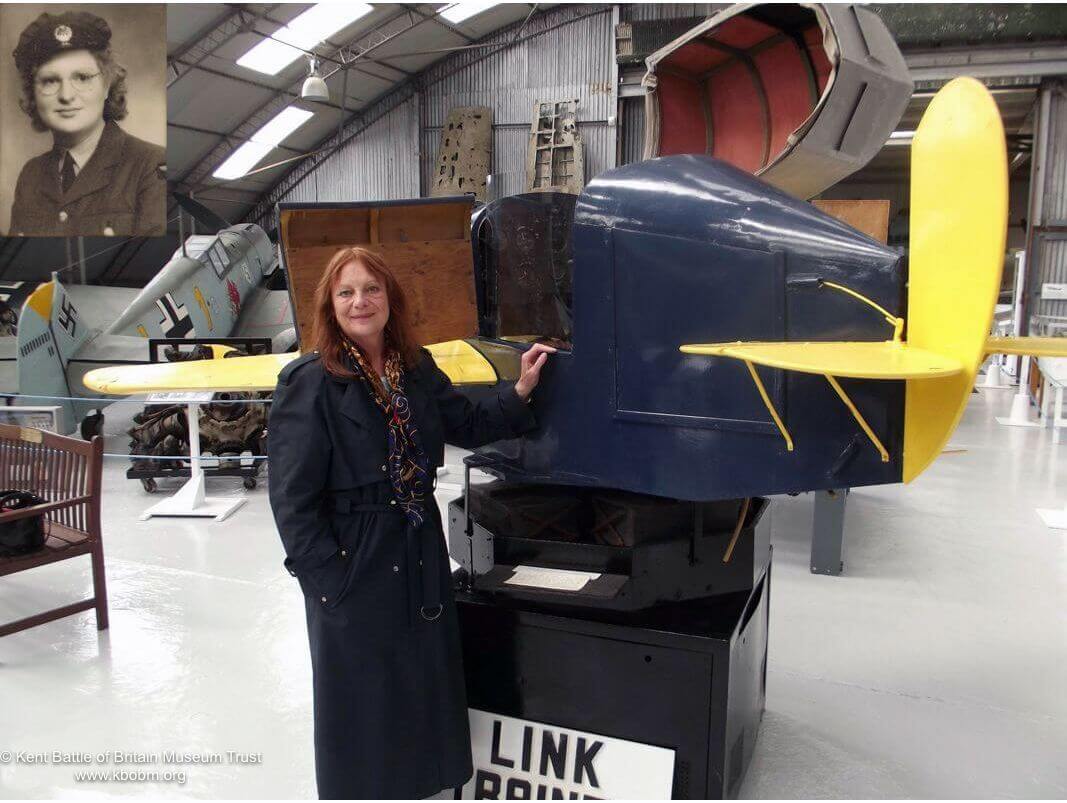 8 May - back in February of this year, we, the Kent Battle of Britain Museum Trust, were contacted by Llyn Shirley in Canada enquiring if we had any information on her mother, Gwyneth Mary Roberts, who served at RAF Hawkinge between 1943 and 1946.
It turned out that Gwyneth served as an electrician and worked on the Link Trainer at RAF Hawkinge, but what Llyn did not realise until contacting us was the Link Trainer Building is one of the buildings that now houses some of the Museum Collection!
Llyn's mum is thankfully still with us and will be celebrating her 100th birthday in June. As Llyn told us, what can you buy an 100 year old lady?! Well Llyn came up with the idea of visiting the Museum from her home in Canada and taking photographs of the Link Trainer Building, where her mum had worked all those years before, and making a book of her trip to give her mum on her 'special birthday.'
Well on Friday last week, 4th May 2018, we were very pleased to welcome Llyn and her friend to the Museum and took photographs of her with our Link Trainer (the original flight simulator), in the Link Trainer Building, outside the Link Trainer Building and with the three Gate Guardian Hurricanes in the Museum Grounds.
Llyn supplied us with a few photographs of her mum and she actually got married in St. Michael's Church, Hawkinge (known as either old Hawkinge or Uphill these days). Gwyneth married John Thorning Shirley, a Canadian soldier, on 7th July 1945 and hence why she emigrated to Canada after the end of the Second World War.
Happy 100th Birthday from all the Volunteers and Supporters of the Kent Battle of Britain Museum Trust to Gwyneth Mary Shirley in June!
---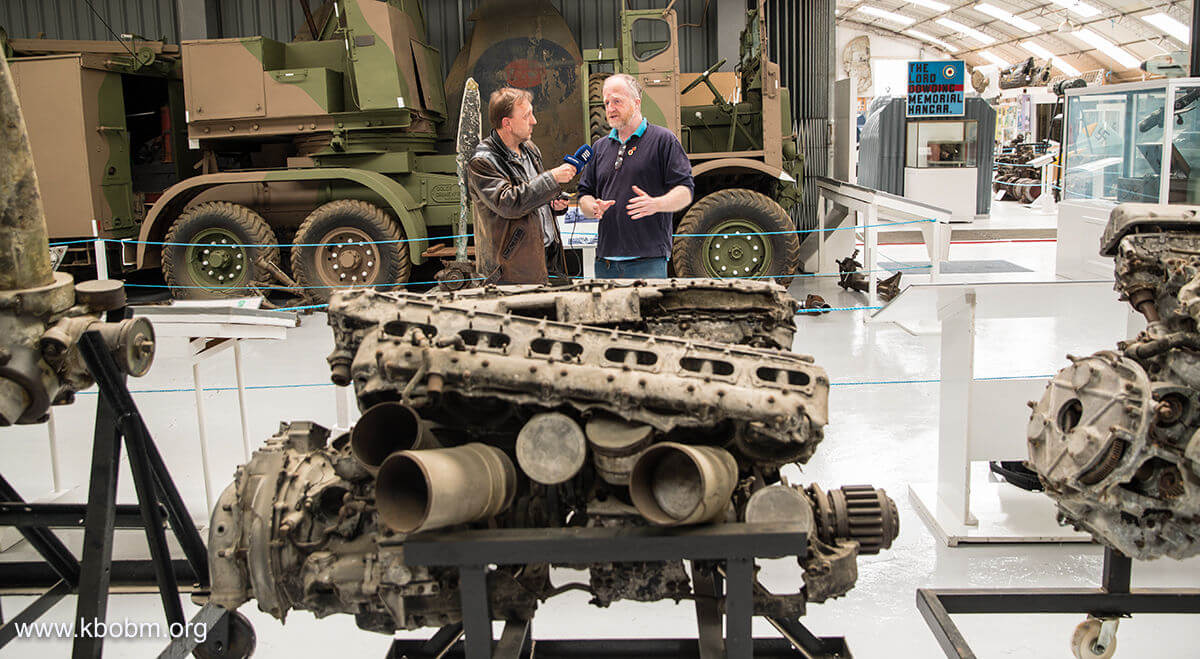 4th May - amongst the visitors to the museum we were very pleased to welcome Dr. Jaromír Marek, UK correspondent for Czech National Radio (Ceský rozhlas - Radiožurnál).
Jaromír, and two other Czech visitors, were guided round the collection by museum chairman and volunteer Dave Brocklehurst MBE and shown artefacts relating to some of the eighty-eight Czechoslovakian airmen that flew and fought with the Royal Air Force in the Battle of Britain. Many with No. 310 and No. 312 Czechoslovak Squadrons.
Jaromír interviewed Dave alongside the remains of the Hurricane engine of Czechoslovak Battle of Britain pilot Josef Koukal who had been shot down and badly burnt on 31 August 1940. In addition to the engine, the Museum recovered numerous other items from the crashsite at Capel Fleet, Kent and are on display in the Operations Block.
The interview, in Czech, here.
---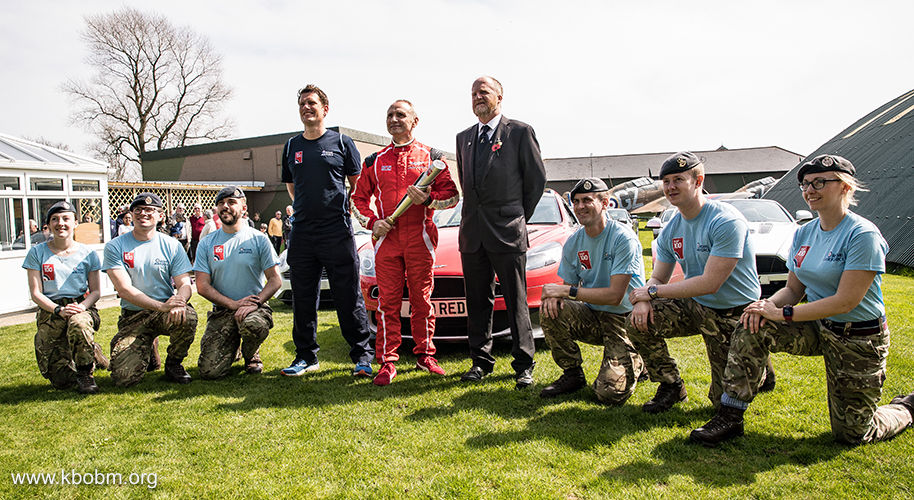 On Saturday 14th April 2018, we welcomed 'Red 10' an Aston Martin Vanquish S Red Arrows car, which was carrying the RAF Centenary Baton, and had an honour guard of eight other Aston Martins.
Actually forty-five Aston Martins accompanied 'Red 10' and the RAF Centenary Baton to the Museum!
The RAF Centenary Baton is being carried in a relay which sees the specially designed baton visit 100 sites associated with the RAF in 100 days, to commemorate the RAF's 100th Birthday year. To coincide with the birthday of the RAF the relay started on 1st April 2018 from the Royal Courts of Justice and will end 100 days later on 10th July (the seventy-eight anniversary of the start of the Battle of Britain) at Horse Guards Parade. It was flagged off by Chief of Air Staff Sir Stephen Hillier and Wing Commander Paul Farnes, a former Battle of Britain veteran who flew with No.501 Squadron and who often flew from RAF Hawkinge.
We are very pleased and honoured that the RAF have chosen to recognise the Museum and the proud history of RAF Hawkinge by including us within the 100 sites.
Just after 12.00 noon, lots of visitors and museum supporters, our volunteers, representatives of the Royal British Legion, RAF re-enactors were at Museum to welcome 'Red 10', driven by Lt/Col Humphrey Bradley, the RAF relay team, led by SAC Luke Moore, RAF Regional Organiser, and the forty-five accompanying Aston Martins.
When they arrived we recreated a Red Arrows Formation with nine Aston Martins (in part red, white and blue) led by 'Red 10' and the RAF Centenary Baton, re-enactors and guests, in front of the three Gate Guardian Hurricanes.
After a visit around the Museum they departed, half an hour later than planned, for their next stop at the Battle of Britain Memorial at Capel-le-Ferne.
And that is how we celebrated the 100th Birthday of the Royal Air Force.
---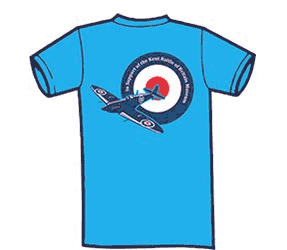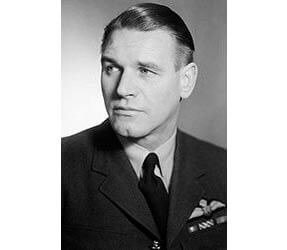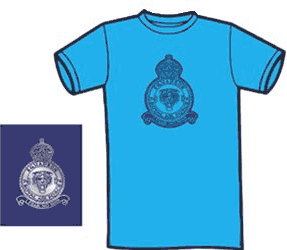 The Trustees and Volunteers of the Kent Battle of Britain Museum Trust are Very Pleased and Honoured to announce that Yvonne Malan, who is a descendent of the one and only Sailor Malan, is running three races in South Africa this year raising much need funds for the Museum!
The first race, The Peninsula Marathon will be this coming weekend on 18th February 2018. The race finishes in Simon Town where Sailor Malan was a cadet on board SATS General Botha and the source of the 'Sailor' nickname (his family members called him John).
In May Yvonne will be running the Wellington Half Marathon, where Sailor was born.
In September Yvonne will be running the Cape Town Marathon, the city where Sailor led the Torch Commando meetings.
Yvonne said :
Sailor was erased from from South African history after his death, so I hope to raise awareness in South Africa about his life and legacy. Even if I weren't related to Sailor, I'd still feel strongly about promoting the legacy of 'The Few.' As I mention in the MyDonate Page, their courage made the future possible. Regardless of where you where born or where you come from. If The Few had failed, the global consequences would have been horrific. We owe them so much.
If you would like to support Yvonne over these three races and thus support the work of the volunteers at the Kent Battle of Britain Museum Trust please click on the MyDonate button below.
Not only will we receive 100% of your donation but MyDonate will add Gift Aid to qualifying donations giving us an extra 25% at no extra cost to you
---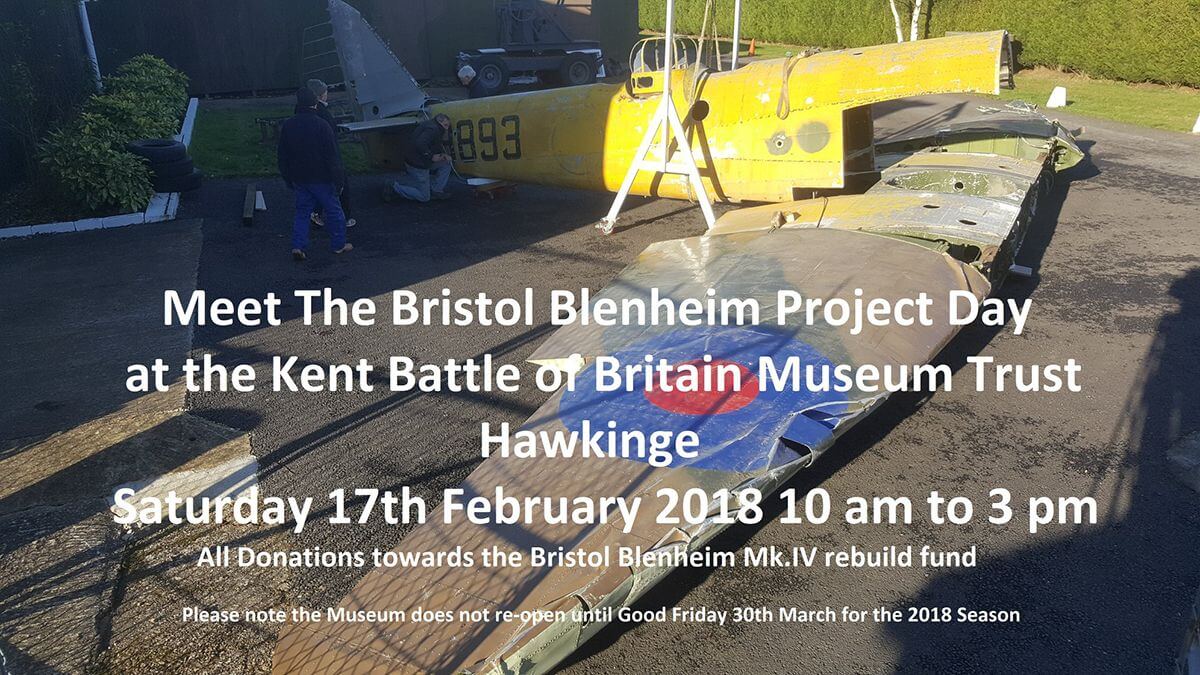 ---
Presentation by John Vasco.
On Saturday 11th August 2018, the Kent Battle of Britain Museum is pleased to welcome back John Vasco. John is one of the leading experts on the Messerschmitt Bf 110 and on Erprobungsgruppe 210 (a German precision fighter bomber unit). There will be at least three presentations held by John throughout the day.
John Vasco will be showing a 16mm colour film of the examination of a 2nd Staffel, Erprobungsgruppe 210 Messerschmitt Bf 110, by the Vultee Aircraft Corporation in America. This very rare film came to light less than twenty years ago in America and has rarely been shown to the general public, the first time being shown at the Museum on 11th August 2002. The Messerschmitt Bf 110 took part in the attack on Hawkinge on the 12th August 1940, which was the first major attack on the airfield, and was shot down in combat three days later. Items acquired at the time of the crash are also on show within the Museum.
John Vasco will be giving talks on the film and also on the attack on Hawkinge during the day and will happily answer any other questions that visitors may wish to ask. John will also be available to sign several books he has written on the subject, and all the money raised by this, will go to expansion and improvement of the Museum.
The raid on Hawkinge was carried out without loss to Erprobungsgruppe 210 and the Hawkinge Operations Record Book recorded the raid as follows:
'Bombing attack by Ju 88's against the Station was carried out at 1730 hours and lasted approximately 10 minutes. One hangar, No. 3, was almost completely wrecked whilst one other, No. 5, was partially wrecked. A number of bombs of heavy calibre, including incendiary, were dropped. The aerodrome and buildings were machine-gunned during the attack. The main stores were partly damaged by fire, the clothing store almost completely. The fire was quickly brought under control by RAF personnel aided by local AFS. The Station Workshops were wrecked. Two houses in the Airmen's Married Quarters, occupied by airmen, were destroyed. Twenty-eight craters were made on the aerodrome, the longest being 76' x 72' x 28' deep and the smallest 10' x 10' x 8' deep, but the aerodrome was not rendered completely unserviceable. Repairs to the surface were immediately commenced by the RE's already attached for such work. Ground defences were surprised and no guns, except two Hispano, were fired. The altitude of the attacking aircraft was such that it was impracticable for the PACU to be brought into action. Two civilians employed by contractors of the Works Directorate were killed, and three airmen were killed. Six airmen received severe injuries and were admitted to the Kent and Canterbury Hospital, Canterbury. The Casualties occurred to personnel employed in No. 3 Hangar. Two Spitfire aircraft, under repair, were damaged, whilst one or two others were struck by splinters. Two non-operational aircraft on charge were damaged but repairable.
After the attack, seven men were left dead, within feet of where the Museum now stands. No. 3 Hangar received several direct hits and the towering Iron Belfast Hangar doors came off their top runners and crushed to death an airman and two civilian employees, Mr. Brisley and Mr. McCaister. Within the hangar Corporal McColl and three more airmen were killed. The site of this death and destruction, for many years after the war was the Hawkinge Parish Council's football pitch and has now been redeveloped with housing.